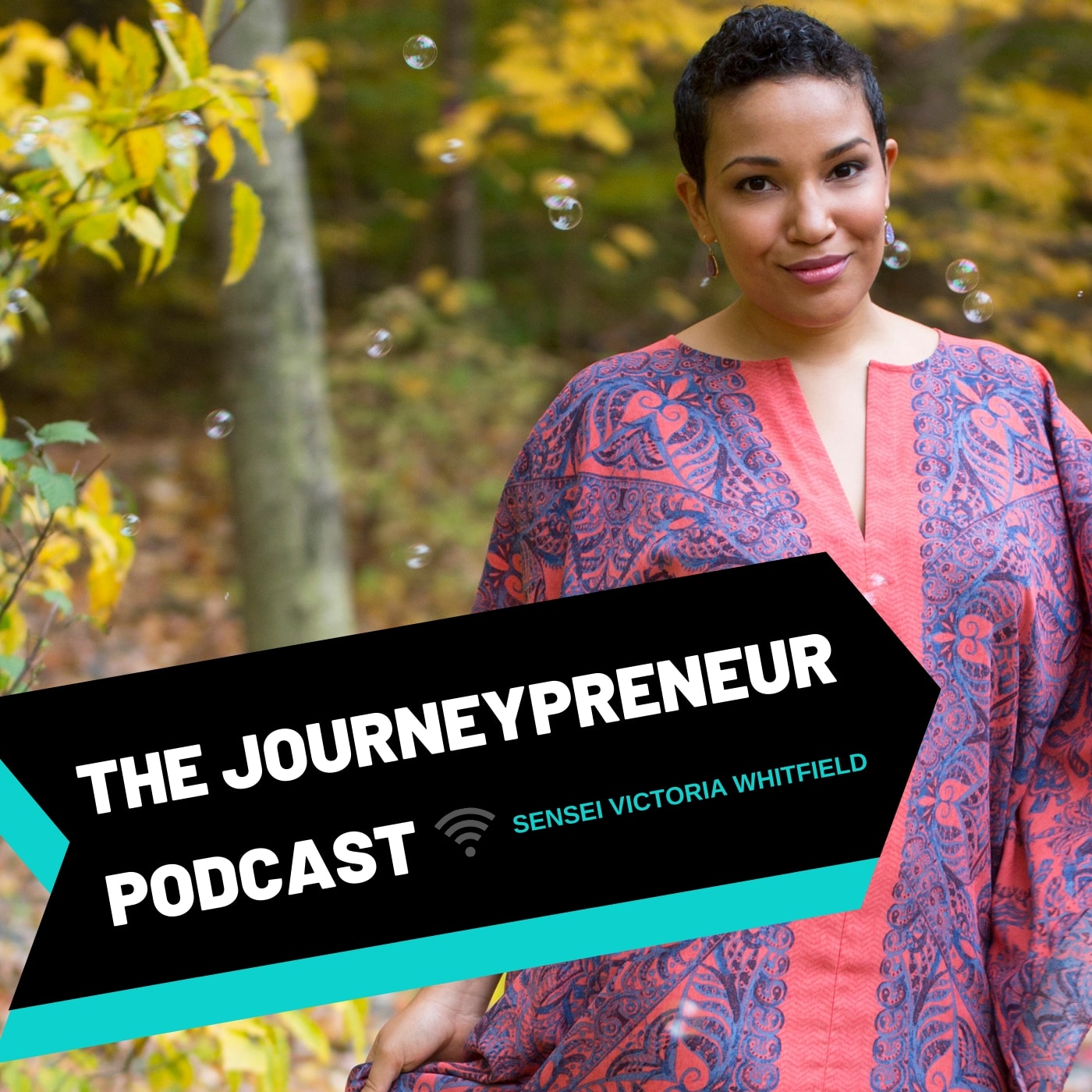 Hey everyone, it's Sensei Victoria Whitfield here, your journey partner in business, welcoming you back to episode 164 of the Journeypreneur Podcast. This is your source for channeled holistic stress management techniques, guidance, inspiration and motivation to stay on your path to rapid financial ascension and massive impact as a conscious entrepreneur.
So the title of this podcast episode is 45 Days of Gratitude.
In this podcast episode, I'm going to share with you a little bit of something I've been doing recently called 45 Lives. I've been going live on Facebook sharing all of the incredible downloads and insights and I've been receiving in my day to day work day as an energy coach. Right. And healer for entrepreneurs. And so I want to share with you in the next few podcast episodes my 45 lives. And so here goes. Enjoy. Hello, hello, all my Facebook friends.
So since I'm Victoria Whitfield here from NaturalIntuition.com, and this is day one of forty five live shout out to you, Wanda Turini, for welcoming me into this as an idea. You know, for me personally, I have to admit I have a lot of resistance to this. Like I want to begin on that note because, holy moly, am I already doing a lot of content generation like I if y'all have worked with me or in my entrepreneur master manifestoes Facebook group for any amount of time or have been on my email list, etc., you know, I have no problem coming off camera, but to do it for 40 to five days straight, I literally had to take like half an hour, like thinking ha.
And I've had this open for half an hour thinking, what do I actually want to do for forty five days. Like what of in addition to the podcast, in addition to the the clubhouse rooms, in addition to the launches, the live streams, the interviews that I'm doing, in addition to the newsletters, do all of the Instagram posts on Instagram like not letting me post video for some reason, but what am I going to do and talk about for forty five days in addition to this and then wham, my spirit guides hit me with it. Forty five days of gratitude. Forty five days of gratitude, especially at the end of my workday. Or even if it's just like sixty seconds of gratitude at minimum, 60 seconds of gratitude for the next forty five days. And that is what will be my commitment, even though I'm bring in the, the resistance with me because I'm very visible, I'm used to being very visible and excited to get to. Hmm. Go past the edge of my comfort zone because one is already armed for good day. Fifteen or something if you aren't following her. By the way, Wanda Toro Turini Rocket fuel for business. Incredible, incredible work that she does. But the so she's already much farther along on this. Why am I so resistant. It's interesting. So I'm going to sink into forty five days gratitude and this will be my first one.
By the way, if you're coming along with me on the journey you can put hashtag live or hashtag replay as you are watching, just so I know, like who's watching and when. And like it helps me to ground to know who's with me. It's kind of like going for a walk in a forest and then wanting to know who are you walking with, who else is in the forest with you. So that's why all I ask is you put hashtag live or hashtag replay below, so I know whose journey with me. So by the way, this says Enjoy the journey, so I'll drink to that. This is water. So what am I celebrating, huh? Well, for one, I'm celebrating, first and foremost that this is my birth month and I'm so excited for March. I love March because it was the month that I was born in. And years ago I implemented celebrating all month rather than just celebrating on the day or the neighboring weekend. It's like, OK, I've gone through another transit around the sun. I'm so intrigued, like to not just, you know, park this into one day and said, let it be a month. So it's one thing that I'm celebrating. And it's interesting that this March this month in particular, my transit around the sun, I'm receiving more support than ever.
-
Let's talk about it!
Feel like you've got a Money Block stopping or slowing your business growth? 
Need help clearing that block, so that you can get your next-level abundance breakthrough? 
Take the assessment at http://www.victoriawhitfield.com/quiz to find out, and apply for a Breakthrough Call with me!